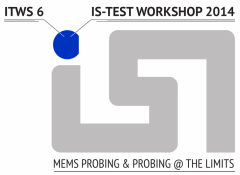 IS-Test Workshop
6 th ITWS - Summary
This year's 6th IS-Test Workshop really raised the bar as over 60 participants joined us during the last year's workshop at the Best Western Hotel Munich Airport.
In seven sessions plus one add-on presentation, representatives of the most important players in the european semiconductor industry had the opportunity not only to discuss various recent problems concerning hot & cold wafer testing, but also to bring up and debate suitable proposals for their solution.
Plus, the pleasant and yet professional atmosphere made the ITWS feel like more than just a workshop; like a big family reunion, it showed that our industry in it's foundations is based on solidarity and a great sense of team spirit.
For more information please see
here