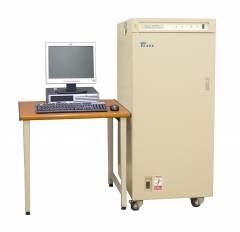 Tesec - TT Series
881-TT/A 381-TT/P

The 881-TT/A is a high performance test system which covers wide range of discrete semiconductor devices from small signal to power devices. As the most popular tester in the discrete market, 881-TT/A establishes the reputation for its reliability.

351-TT/P 341-TT/P

The 341-TT/P and 351-TT/P have a capability to perform parallel testing of power discrete devices. As the standard specifications of mainframe, 341-TT/P has 1.2kV/20A and 351-TT/P has 2kV/50A capabilities. These systems have 2 testing subsystems, each of which has 4-station capability by multiplexing to 4 handler/prober stations for high volume production testing.

391-TT 971-TT/B

The 971-TT/B performs parallel testing of 4-pin small signal devices. Using Microsoft indows and GPIB I/F, 1PC can control up to 4 sets of 971-TT/B (Max 8 test stations). This tester has switching function to an external tester. The 391-TT has a capability up to 9.99A and performs synchronous testing in addition to parallel testing.