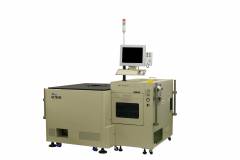 Tesec - MAP System
4170-IH/4605-HTR

4170-IH is Film Frame STrip Test handler for QFN and WLCSP. Devices are electrically isolated but keep the block state on the wafer ring and tested before being singulated to tray or tube.

The strip testing method is ideal solution for small (less than 3x3), very thin leadless device and has high flexibility for package conversion. 4605-HTR is a MAP Sorter which picks up devces fom wafre ring and sorts to tape, tube or bin according to the MAP file created by 4170-IH.
When used in combination with 4170-IH, 4605-HTR much improves efficiency in testing and sorting process of leadless devices.