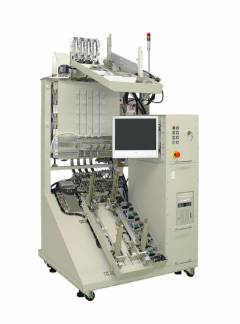 Tesec - Gravity Handler
3631-IH LT9900

The 3631-IH is 4 parallel site handler for various packages.
Its unique device indexing mechanism is designed for reduction of both damage to device and jam. The platform is very flexible to comply with customer's requirement, such as ambient only, 2 parallel or 2 serial test DUT, or manual output. The LT9900 handler series is a state-of-the-art mode, which features a high throughput capability, eight sites, tri-temp test mode. The LT9900 is widely accepted by major global semiconductor companies around the world, known as its high performance and reliability.