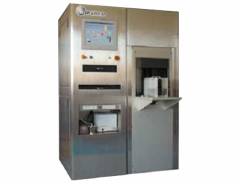 MSP - 2300XP1 and XP2
The 2300XP systems provide highly accurate PSL Wafer Size Standards from 80nm to 1um with very narrow distribution widths, as specified by Semi Standards M52 guidelines. They optionally provides superb size accuracy from 30nm to 2um and 30nm to 3um to calibrate size response curves of KLA-Tencor, ADE, Hitachi and Topcon wafer inspection systems. They deposit mono-dispersed process particles, spot depositions with highly accurate sizing (Si, SiO2, Al2O3, TiO2, Si3N4, Ti, W, Cu and Ta) The XP1, shown right, is a manually loaded system, the XP2 is fully automated with wafer handling. They create Particle Wafer Standards which provide daily monitoring capabilities and also can be used to evaluate the cleaning efficiency of WET Clean Benches.
The 2300XP is installed in major semiconductor fabs throughout the USA, Europe and Asia, and helps to reduce wafer contamination, thus improving device yields.
The XP1 comes for manual loading, the XP2 for automated wafer handling.