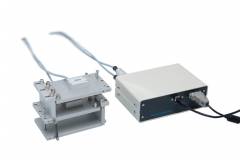 CREDEN - PTS800
PTS-800 is a single axis high resolution precision tilt
measurement system that measures inclination of any
moving platform or stages within a system.

Measurements can be made either absolute (one
sensor) or relative (paired sensors). PTS-800 comes with a user friendly GUI and the simplicity of a USB
plug-and-play connection.

It comes with high accuracy and outstanding repeatability, insensitive to vibration and excellent shock durability. It is also suitable for wet process.