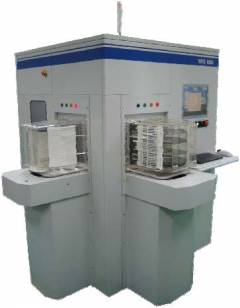 CREDEN - WHS8000
WHS8000 is designed with 2 load ports and is
upgradeable to 3. It is configurable to handle 300mm
wafer in FOUP or FOSB, and 200mm wafer in open
cassette without conversion.

The optional OCR vision system will read the wafer ID and communicate with the host computer for its sorting destination.

Alternatively, there are other direct sorting methods which are programmable by the user. This machine uses R robotic arm to ensure fast and precise handling.