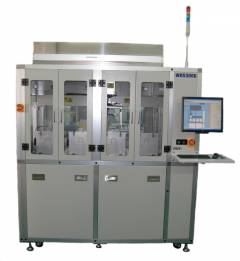 CREDEN - WHS300G
WHS300G is designed for wafer transferring, splitting,
merging or flipping 6" and 8" wafer from the input
cassette to the output cassette in batch mode.

Input cassette type is SEMI standard open cassette with
26-slot, 25-slot and 13-slot.

There are four load ports available with three inputs load ports and one output load port. The system is equipped with high accuracy reflective sensor for wafer protrusion detection.