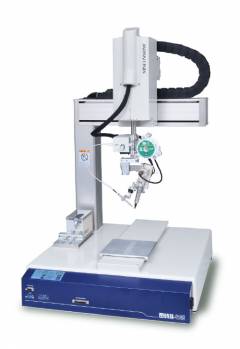 Japan Unix - Solder Meister - Unix 410Series
UNIX-410 Series

The premium model that achieves fast, precise, and high-quality soldering operation.

Offering two slim types of high performance soldering robots that letting our customers choose the best one to fit their objectives.

Both come with a clean cut feeder and lock-on mechanism, which are the most popular automatic option, for higher precise works. The model is excellent for durability and repeatability that achieves in cellular manufacturing. In addition, UNIX-410S has mounted "Kaizen" and "Poka Yoke" functions to maintain output quality and the speed of production.

This high performance soldering robot 410S is able to improve over 15% in cycle time. One of three major soldering methods,
contact soldering, laser soldering or ultrasonic soldering is available

・For work up to 400mm×365mm
・Supports M-size PCBs
・Solder feeder with 5 stepping motor
・Improve detection sensor of solder shortage & jam
・Integral onboard controller

Features
・Reduce cycle time by approx. 15%*

10-point:
14.3% cycle time reduction

50-point:
15.6% cycle time reduction
・feeding precision
・Slim & compact

*Versus other firms. May differ based on soldering environment and conditions.