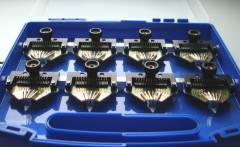 HTT - Wedge Probecards
In our own production located in Dresden our team builds Cantilever Probe Cards. We can make Epoxy Cards as well as Blade Cards. Special Probe Cards, Docking Systems and Motherboards can be made on request.
In Epoxy Technology needle counts up till a few hundred needles can be made. The needle materials Tungsten and Rhenium Tungsten or Berylium Copper are possible, more materials on request. Standard square and round PCBs are on stock, special PCB Layouts can be made in a few days. Also Wedge Probe Cards and Donut Probe Cards can be made on standard PCB's from stock or on a special PCB, designed to your requests. Probe Cards with mixed technologies are also possible, for example Pogo Probes and Cantilever Probes combined on the same PCB. The application range of the htt Probe Cards covers Low Leakage, Sort, High Current and engineering on temperature ranges from 73K up till 200°C.
Probe Cards can be completed with mechanical equipment designed and assembled in our own workshop. Manipulators and Mini Probers can open the way to touch the device without a Prober on your desk under a simple stereo microscope.