MarTek Prober - 4090
µ

+ Wafer Prober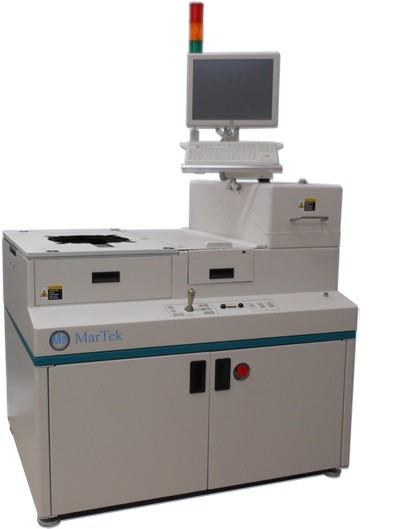 µ+ Wafer Prober" title="4090
µ
+ Wafer Prober">
We build new 4090 series wafer probers at our Global Prober Technology Center (GPTC) in Tempe, Arizona USA. These prober products have advanced automation including probe to pad alignment, in process inspection and optical character recognition (OCR).
The 4090µ+ is an extended performance version of the Electroglas 4090µ prober that increases test-cell utilization for temperature probing. It provides additional capacity through increased speed, increases probe-to-pad stepping accuracy (+/- 3 µm) and introduces MicroTouch™ to provide support for more sensitive probe devices. These options are also available as upgrades through MarTek for existing Electroglas 4080, 4090 and 4090µ probers.
MarTek produces new 4090FF and new Pathfinder film frame probers.
New wafer probers from MarTek can be designed to work in temperatures from -60 C to +200 C. We stand behind all of our work. Ask us about our industry-leading parts and service warranty.
In addition to standard parts, we stock many obsolete parts and components not available anywhere else. Watch for our online parts and accessories section coming soon. As with all our services, we work with you to match your needs with the right prober, parts and accessories. Our comprehensive quality checklist ensures that prober products meet or exceed the original OEM specifications.
Download Datasheet
µ+ Wafer Prober');">
Direct Contact