Latest news.
Have a look on htt's current exhibitions, new product lines, product updates, cooperations and more to stay up to date with the htt Group, the Semiconductor Industry and tomorrow's technologies.

June 08, 2016
ANNOUNCEMENT - htt Group is the new sales Rep of TPS Thermal Product Solutions
Thermal Product Solutions (TPS) designs and manufactures industrial and laboratory ovens and furnaces, and environmental temperature cycling and stability test chambers. Product brands include Blue M, Gruenberg, Lindberg/MPH, Tenney, Wisconsin Oven, and Baker Furnace. TPS headquarters are located in New Columbia, Pennsylvania. Baker Furnace is located in Yorba Linda, California, Lindberg/MPH is located in Riverside, Michigan, and Wisconsin Oven is located in East Troy, Wisconsin.
For more product information and details click
here

May 20, 2016
TU Denmark adopts Micromanipulators latest system level probing technology for development of Internet of Things enabling electrotechnologies.
Read the full Press Release below.
For more information about Micromanipulator's product range please click
here
May 04, 2016
our IOSS WID110 Wafer ID Reader in the Silicon Saxony News!!

April 26, 2016
SMT Show starts today! Visit our booth #7A-521

We will have live demonstrations of MPI Thermal Air Stress System TA-5000A and Micromanipulator Application Board Prober LS 2210 at our booth!





April 26, 2016
Tesec received Texas instrument's highest level of supplier recognition

April 18, 2016
WID110 Wafer ID Reader Upgrade Kit available for TEL Probers
Reader Division is proud to present the full integration of WID110 into TEL probers. The turn key solution provides live image and Light Control on TEL Software in addition to all well know features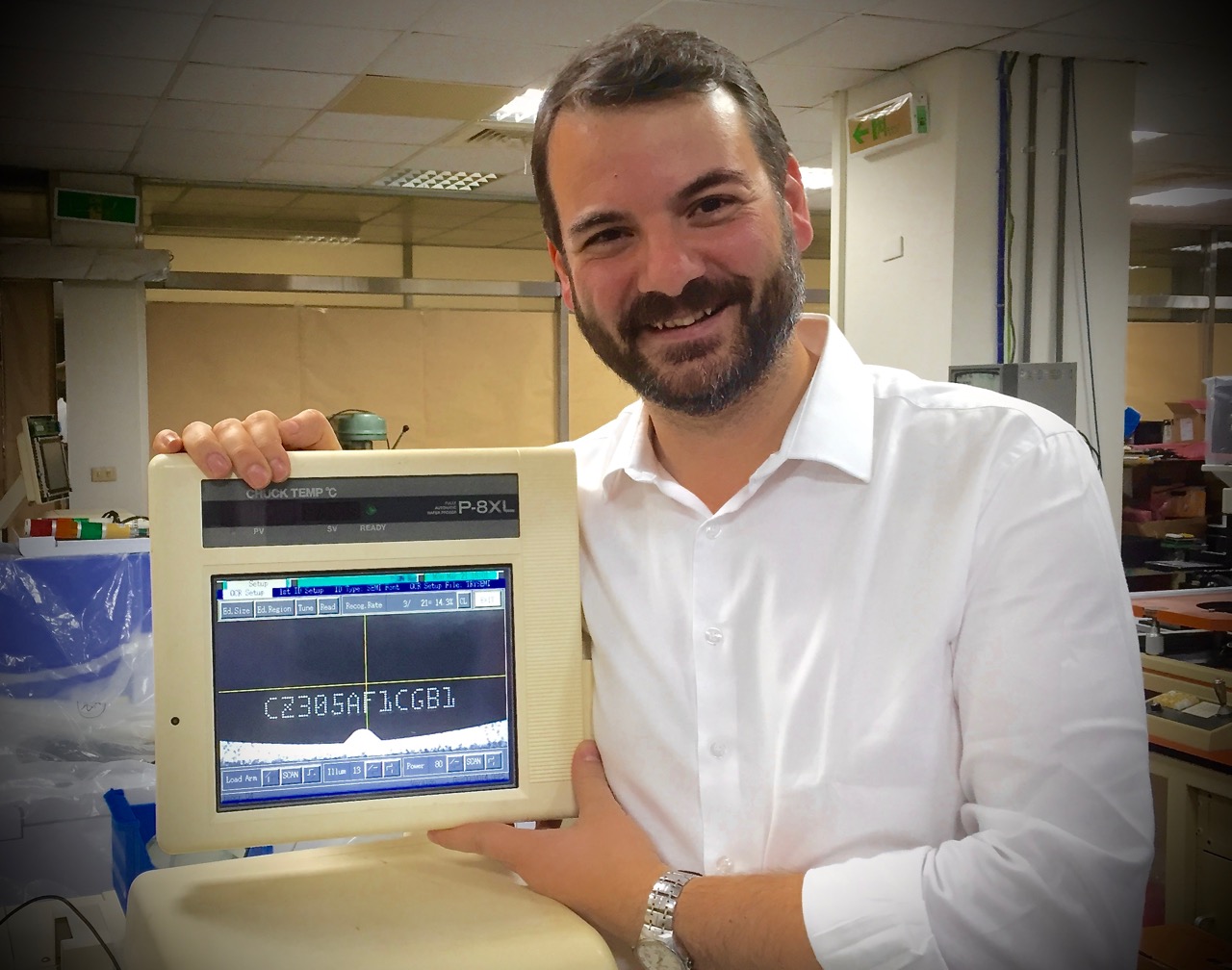 April 07, 2016
Great relaunch of Fancort's new webiste - have a look!

March 09, 2016
htt Group's Wafer Reader Division @Semicon China Show!
Visit htt Group's Wafer Reader Division at Semicon China show, KNG Tech's booth No. N3358 (3362) for Live Demos of IOSS WID110 Wafer ID Reader and Mechatronic mBWR200 Batch Wafer Reader.
Bring your sample wafer and our specialists will demonstrate our performance for you!
See you in China, Ni hao!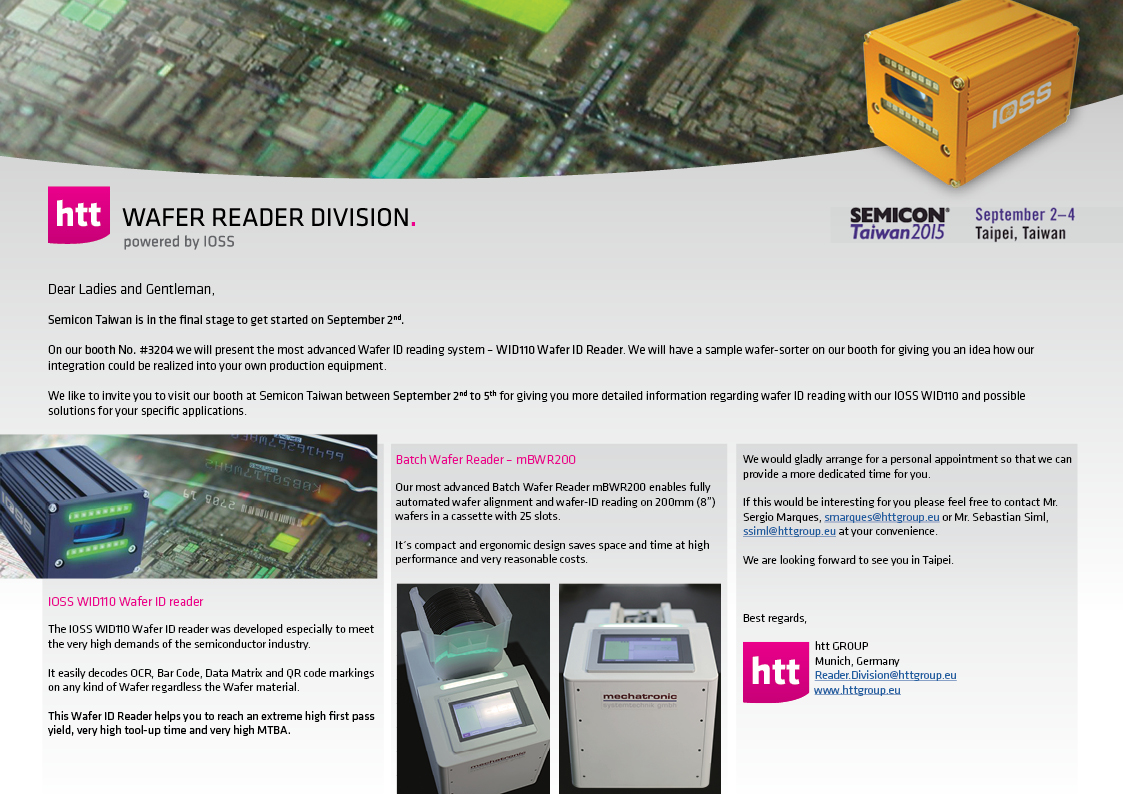 March 08, 2016
htt Group receives Award for Best Sales Force Worldwide for the Micromanipulator Company
Carson City, Nevada, March 2016:
We are proud to announce that htt Group received the Award for Best Sales Force Worldwide for the Micromanipulator Company.
htt was invited to the Micromanipulator international sales meeting in Reno to receive the award.
The Best Sales Force Worldwide was handed over to htt by Micromanipulator owner and VP Sales, Mr. Clint Waggoner.
Micromanipulator, The founder of Wafer Probing, is the expert in analytical wafer probing, and has been delivering analytical probe stations, application board probe stations, as well as probing accessories to the industry for over 60 years.
Micromanipulator is manufacturing all probe stations and consumables at their HQ in Carson-City, Nevada. htt Group is the exclusive Sales-, Application- and Service- partner for Micromanipulator in the majority of the Europe area. The European Demo facility of Micromanipulator is located at the htt office in Munich, Germany. htt Service-/Application- and Sales- support is provided from the HTT offices in Munich, Dresden and Portugal.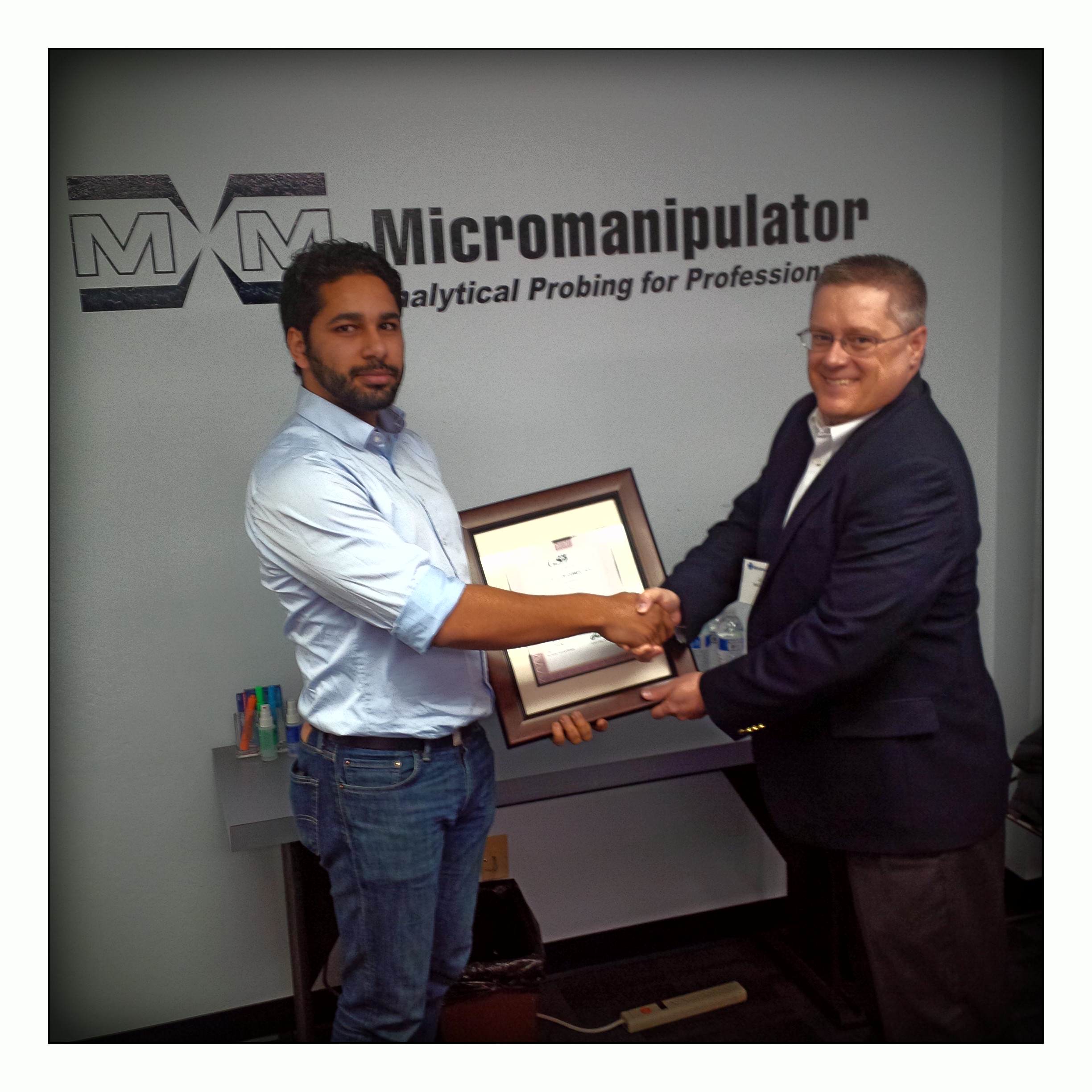 For more details about Micromanipulator products please click
here
February 10, 2016
Thermo Scientific released latest generation Robotic Charged-Device-Model Test System, Orion 3.
Thermo Scientific released its latest generation Robotic Charged-Device-model (CDM) Test System the Orion3.
The new tester is designed to meet all popular CDM standards. It can be configured for both field induced and contact methods like the patented CDM2 test method.
Thermo Scientific's Scimitar software package is implemented for intuitive test set-up and easy test execution. All test heads include high resolution cameras for easy discharge pin alignment.
For more information about Orion3 click
here

January 29, 2016
ADT News!!

ADT 977 - Much more than a wafer cleaner! ADT Peripheral Equipment Enhancements! Receive the full information about ADT's new product features in the upload file.
January 25, 2016
- Micromanipulator 300mm Semi-Automatic Probe Stations sold to a big chip manufacturer in Germany and Austria

January 24, 2016
- TU Denmark purchases the 1st Application Board Prober in Europe
htt gruop sold a first Micromanipulator 2210 Application Board Prober to TU Denmark.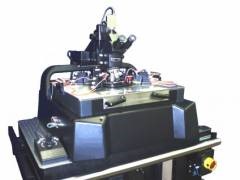 For more information about Micromanipulator's products please click
here

January 22, 2016
New ADT Advanced Dicing Technologies Website online!!

November 20, 2015
NEW Micromanipulator Video - Analytical Probe Station

November 19, 2015
new generation of the mBWR Batch Wafer Reader

HTT and Mechatronic introduce a new generation of the mBWR 200 Batch Wafer Reader. More information about product features and improvements will be provided soon.




November 17, 2015
ANNOUNCEMENT - htt Group is the new sales Rep of MPI - Thermal
Since 9th of November 2015 htt group is the proud new sales representative of MPI- Thermal.
MPI Thermal is a division of
MPI Corporation
.
MPI Corporation
was founded in July, 1995 and has enjoyed growth well beyond industry standards due to an infusion between customer centricity, industry leading technology development, advanced manufacturing techniques and world class customer support. In addition, having four vertical markets spanning across a wide variety of industries has fueled consistent
MPI
growth.
MPI Thermal temperature systems have advanced technology in precise localized hot and cold temperature test equipment. The thermal division has 60 years of combined thermal control system experience. This has brought about a thermal air stream system for today's manufacturers environmental test chamber needs. We have designed a system that provides accurate temperature control at the test site as a convenient alternative to larger temperature chambers and liquid baths. for detailled product descriptions please click
here

November 05, 2015
ADT and Fancort @ Productronica Munich
Our partners ADT and Fancort will be exhibiting at this year's Productonica show in Munich starting November 10.
ADT – Advanced Dicing Technologies, a specialist for dicing of hard and brittle materials like ceramics, packages and compound semiconductors will be present in hall B3 at booth 444.
Fancort will showcase a range of systems for trim and form applications on high performance SMT devices at booth 389 in hall B2.
We cordially invite you to visit both of our partners to learn more about their products and capabilities. Members of the htt Group will be present at both locations.

October 20, 2015
New ITS - International Test Solutions Products - Hand Held Roller
6" Hand Held Roller, P/N: HHCR-6-1
12" Hand Held Roller, P/N HHCR-12-1

Optimal for intalling cleaning material onto cleaning stages

October 19, 2015
New WID110 Wafer ID Reader Press Release online!
click
here
to read the full press release.